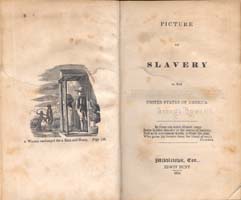 George Bourne. Picture of Slavery in the United States of America. Middletown, CT: E. Hunt, 1834. Middletown collection, Special Collections & Archives, Wesleyan University. Presented to the Philorhetorian Society by William A.M. Hand.
Slavery was a burning issue in New England in the 1830s. In 1831, the same year that Jehiel Beman brought his family to Middletown and Wesleyan University was founded, William Lloyd Garrison began publishing his anti-slavery paper, The Liberator. Garrison's famous call to join the abolitionist cause appeared in the January 1st issue:
I am aware, that many object to the severity of my language; but is there not cause for severity? I will be as harsh as truth, and as uncompromising as justice. On this subject, I do not wish to think, or speak, or write with moderation. No! No! Tell a man whose house is on fire to give a moderate alarm; tell him to moderately rescue his wife from the hands of the ravisher; tell the mother to gradually extricate her babe from the fire into which it has fallen – but urge me not to use moderation in a cause like the present. I am in earnest—I will not equivocate – I will not excuse – I will not retreat a single inch – and I WILL BE HEARD!
Garrison was indeed heard in Middletown, as well as elsewhere. The New England Anti-Slavery Society (later known as the American Anti-Slavery Society) was founded in Boston in 1832, and the cause spread throughout North in response to Garrison's call. Within just five years, there were twenty-nine anti-slavery societies in Connecticut alone. Garrison made a tour through Connecticut in April 1833, where he visited his friends, the Bemans, and the A.M.E. Zion church. He wrote, "On Wednesday morning I took the stage to Middletown, I saw the Rev. J. C. Beman and a few other colored friends, and it was with as much difficulty as reluctance, I tore myself from their company."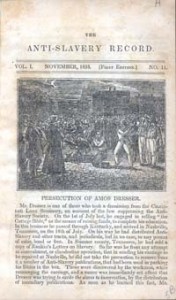 The Anti-Slavery Record, vol. I, No. 11, November, 1835. Special Collections & Archives, Wesleyan University.
Jehiel Beman was tireless in his fight against slavery. A founding member of the Middletown Anti-Slavery Society in 1834, he became one of its five managers. Both of his sons, Amos and Leverett, were also active in the cause. Clarissa Beman, who married Leverett in 1834, was one of the founders of Middletown's Colored Female Anti-Slavery Society in the same year. This group was one of the earliest women's abolitionist societies in the United States. Cross Street Church was so closely allied with the anti-slavery movement that it was known as "Freedom Church" in this period.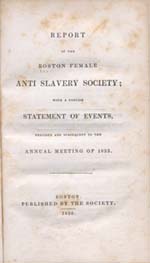 Boston Female Anti Slavery Society. Report … with a Concise Statement of Events, Previous and Subsequent to the Annual Meeting of 1835. Boston: Published by the Society, 1836. Special Collections & Archives, Wesleyan University.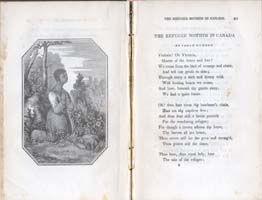 Star of Emancipation. Boston: For the Fair of the Massachusetts Female Emancipation Society, 1841. Special Collections & Archives, Wesleyan University. Gift of Caroline L. Rice.
A more hidden aspect of the abolitionist movement was the underground railroad. Several Middletown citizens, both white and black, served as underground railroad conductors, sheltering slaves who were fleeing the South in search of freedom in Canada or elsewhere. With the passage of the 1850 Fugitive Slave Law, the need for the underground railroad increased. Along with prominent white citizens Jesse Baldwin and Benjamin Douglas, Jehiel Beman and his second wife, Nancy, served as underground railroad conductors after they returned to Middletown in 1854, and perhaps before. Cross Street Church was very likely a way station on the railroad. Jehiel Beman wrote to Frederick Douglass from Middletown on September 7, 1854: "The Underground Railroad, by the way, is in good repair, and our office is open for business … at all hours, either day or night …"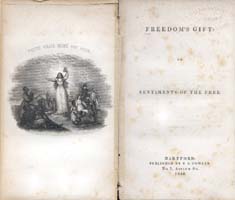 Richard S. Rust, compiler. Freedom's Gift, or, Sentiments of the Free. Hartford: S. S. Cowles, 1840. Special Collections & Archives, Wesleyan University. Richard S. Rust, a member of the Wesleyan Class of 1841, was a dedicated abolitionist. His introduction to this collection carries the byline "Wesleyan University."
In a town as large as Middletown, there were bound to be divergent views. Middletown was home to abolitionists, both black and white, as well as to pro-slavery factions, and to those who believed that black emigration to Africa held the answer to ending racial strife. In 1835, Cross Street was the scene of an anti-black, anti-abolitionist riot. Leverett Beman wrote that Cross Street was "crowded with those worse than Southern bloodhounds."
Some white Middletown citizens supported the idea of colonization. Wesleyan's first President, Willbur Fisk, believed that slavery was wrong, but maintained that the solution to the problem of slavery lay in the voluntary emigration of blacks to Africa, rather than in the abolitionist movement. Fisk was an active member of The Middletown Colonization Society, as was Classics professor Daniel Whedon. Despite the intense rhetoric of the colonization movement, in the period from 1830 to 1850, only ten black people from Connecticut sailed to Liberia. Between 1820 and 1857, the American Colonization Society sent fewer than 10,000 black people back to Africa. Most black Americans, including the Bemans, deplored the activities of the Colonization Society. In the summer of 1831, black people gathered at the Cross Street Church to protest colonization. Amos Beman was elected secretary of the group, and wrote, "Why should we leave this land, so dearly bought by the blood, groans and tears of our fathers? Truly this is our home, here let us live and here let us die." Although the colonization movement was largely a white cause, a few African Americans believed in the hope of a better future in Liberia. One prominent black man from Hartford, daguerreotypist Augustus Washington, wrote eloquently about the importance of freedom, wherever it might be found. Washington emigrated to Liberia, where he used his camera to document the people who had moved there.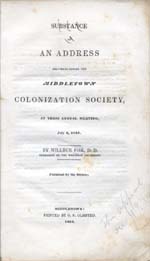 Willbur Fisk. Substance of an Address delivered before the Middletown Colonization Society at their Annual Meeting, July 4, 1835. Middletown, CT: G.F. Olmsted, 1835. Middletown collection, Special Collections & Archives, Wesleyan University.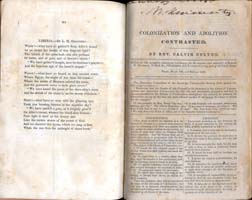 Calvin Colton. Colonization and Abolition Contrasted. [Philadelphia?, 183-?] In bound volume of pamphlets. Special Collections & Archives, Wesleyan University.