Jehiel Beman's father, Caesar, was a slave in Colchester, Connecticut. By agreeing to serve in the Revolutionary War in place of his white master, John Isham, Caesar won his freedom. The story handed down through the generations is that Caesar chose not to take the surname of his former master. Instead, he chose his own name, because he wanted to "be a man." Caesar Beman was the first of the family to bear this proud name, and the first in America to be free. His legacy lived on through his son, Jehiel, and through later generations of the family. Most records cite the name as Beman, but others use the spelling Beaman, Bemon, Beamon, Bemont, or even Beaumont.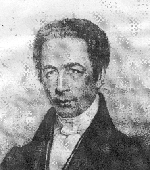 Jehiel Beman. Photoreproduction of lithograph portrait.
Jehiel Beman, a free man of color from Colchester, was called to be the first regular pastor of Cross Street Church. Both of his parents, Sarah and Caesar Beman, had been slaves. In Colchester, Jehiel Beman worked as a shoemaker and an itinerant minister. He joined the New York Conference of the A.M.E. Zion Church in 1830 and was soon appointed head of the Connecticut charges. Upon their arrival in Middletown, Rev. Beman and his family became strong leaders of the town's growing African-American community.
Jehiel Beman and his wife, Fanny, had seven children, Leverett, Amos, Sarah, Lydia, Harriet, Martha, and Aaron. Fanny died not long after the family moved to Middletown. Rev. Beman then married Nancy Scott. To make ends meet, Jehiel Beman operated a shop on William Street with his son, Leverett Beman. Shortly after Jehiel Beman came to Middletown, he built a house across the street from his church. The black neighborhood around the church grew. In 1847, Leverett Beman purchased several lots in the area of Cross Street, Park (now Vine) Street, and Knowles Avenue, and resold them to other black people.
In addition to his tireless work on behalf of the abolition and temperance movements, Jehiel Beman organized meetings of all "colored citizens of Middletown" to encourage them to work together for common causes, particularly the right to vote. Both Jehiel and Amos Beman organized conventions of black people throughout the state.
A lifelong advocate of schooling for African Americans, Jehiel Beman wrote eloquently about the importance of education. In 1831, he solicited funds to found a black college in New Haven, but this plan was strongly opposed by white New Haven citizens, and the college did not come to pass.
In 1838, Jehiel Beman was called to lead Boston's A.M.E. Zion church, and he left Middletown. He became president of the Temperance Society in Boston. Throughout his life, he traveled extensively in New England and beyond, working against slavery, and helping to establish black churches and schools. Jehiel Beman returned quite often to Middletown, where his son, Leverett, remained with his family. In 1854, he moved back to Middletown, where he died in 1858.